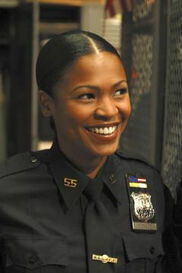 Officer Sasha Monroe was an NYPD police officer who worked at the 55th Precinct. She was portrayed by Nia Long and lasted from season five to the end of the series.
---
Biography
Monroe was a police officer in the 55th Precinct of the NYPD. She was originally posted to the 11PM to 7AM shift (the first watch); however, she later joined the third watch. Monroe developed a relationship with Officer Davis; however, this fell through when it was revealed that Monroe was a detective with Internal Affairs Bureau.
As an informant detective for IAB; her role was to gather information on Anti-Crime Sergeant Maritza Cruz. During this time, she develops a friendship with Detective Yokas in attempt to gain information regarding Cruz and the shooting of a handcuffed prisoner.
After Monroe's cover is blown, Captain Finney leaves her in the 55th Precinct. During her time as a social outcast within the third watch, she helps Sully and Davis take down Capt Finney for the murder of Davis' father. Despite the friction in her relationship with Davis, they finally get back together after Monroe was shot accidentally by Bosco. During the shooting, Monroe loses her unborn child. It was only then that Davis found out that he was the father.
In the final show of the series, it is revealed that, after retiring from the NYPD, Monroe makes a run for office as a city council member. She continues to date Davis; however, due to their hectic work schedule they are yet to be married.
---
Family
Mother (unknown name)
Father (unknown name)
Sister (unknown name)
Two Nieces (unknown names)
Nephew (unknown name)
---
Relationships
Officer Tyrone "Ty" Davis Jr (yet-to-be married)
---