Third Watch: Season 3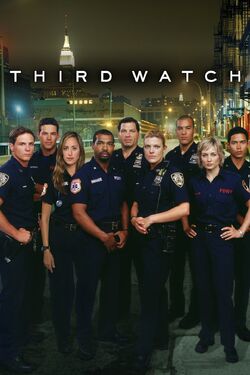 Third Watch poster.
Third Watch: Season 3Edit
This page lists all of the episodes which aired in Season 3 of the NBC series Third Watch. A total of twenty-two episodes from the series opening episode "In Their Own Words", which was aired on October 15, 2001 to the season finale episode, "Blackout" which aired on May 13, 2002.
Main
Recurring
James Rebhorn as Stick Elchisak
P.J. Morrison as Emily Yokas
John Michael Bolger as FDNY Lt. Johnson
Savannah Haske as Tatiana Deschenko
Episodes Edit
Season 3 episodes
Image
# in Series
# in Season
Title
Original air date
Directed by
Written by
In Their Own Words
45
1
October 15, 2001
Christopher Chulack
Edward Allen Bernero
September Tenth
46
2
October 22, 2001
Guy Norman Bee
John Wells
After Time
47
3
October 29, 2001
Félix Enríquez Alcalá
Edward Allen Bernero (Story/teleplay) and John Wells (Teleplay)
The Relay
48
4
November 12, 2001
Guy Norman Bee
Edward Allen Bernero and Scott Williams
Adam 55-3
49
5
November 19, 2001
Jesus Salvador Trevino
John Wells (Story/Teleplay) and Scott Williams (Teleplay)
He Said, She Said
50
6
November 26, 2001
Nelson McCormick
Julie Hebert
Childhood Memories
51
7
December 3, 2001
Nelson McCormick
Edward Allen Bernero
Act Brave
52
8
December 10, 2001
Brooke Kennedy
Scott Williams
Sex, Lies & Videotape
53
9
January 7, 2002
Félix Enríquez Alcalá
Janine Sherman Barrois
Transformed
54
10
January 14, 2002
Guy Norman Bee
Paul G. Golding
Old Dogs, New Tricks
55
11
January 21, 2002
David Chameides
Edward Allen Bernero
The Long Guns
56
12
January 28, 2002
Brooke Kenndy
Julie Hebert
Cold Front
57
13
February 4, 2002
Guy Norman Bee
Scott Williams
Superheroes: Part 1
58
14
February 25, 2002
Nelson McCormick
Jorge Zamacona (Story)
Edward Allen Bernero (Story/Teleplay)
Superheroes: Part 2
59
15
March 4, 2002
Julie Hebert
Edward Allen Bernero
Thicker Than Water
60
16
April 1, 2002
Felix Enriquez Alcala
Whitney Boole Williams
Falling
61
17
April 8, 2002
Jesus Salvador Trevino
Janine Sherman Barrois
The Unforgiven
62
18
April 15, 2002
Félix Enríquez Alcalá
Jorge Zamacona (Story/Teleplay)
Julie Hebert and Scott Williams (Teleplay)
The Greater Good
63
19
April 22, 2002
Vincent Misiano
Lance Gentile
Unleashed
64
20
April 29, 2002
Guy Norman Bee
Edward Allen Bernero
Two Hundred and Thirty-Three Days
65
21
May 6, 2002
Brooke Kennedy
John Wells
Blackout
66
22
May 13, 2002
Christopher Chulack
Edward Allen Bernero